Sarah's Rugrats **
sarahs-rugrats > home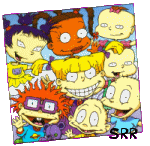 Welcome1
Welcome to Sarah's Rugrats. If you love Nickelodeon's favourite babies then you'll find everything you could ever want to know about them right here, including one of the biggest Rugrats picture galleries around and exclusive games, crafts and fun.

Use the menu bar on the left to navigate around the site and the sub-menus to get around the sections quickly and easily. If you get stuck at any time just click the 'Help' button at the top of each page. If your question still hasn't been answered then feel free to email me.




I don't know. But every night I have to wear a funny hat while Grandpa Boris says some stuff I don't understand and Mom lights another candle - Tommy
Updates
New Pics
There are around 230 new pictures from some Rugrats episodes in the gallery. They will be marked as new for the next ten days. Look out for more coming soon.
Posted by: Sarah on 7th May 2007 2:04pm
---
New Sounds
Thanks to Melissa for pointing out that the All Grown Up sound files weren't working. These have now been fixed. I have also put up some new Rugrats sound files. You can find these in the Info>Sounds section.
And theres a new fan sites link to Joseph's Rugrats Page, which I've been meaning to do for a while... sorry it's taken me so long Joseph.
Posted by: Sarah on 29th April 2007 2:35pm
---
Errors
If some of the site disappears during the next few days, it stops working or some of the menus show up in the wrong place, dont worry! I'm making changes to the site to make it more auotmated and so I need to move a lot of the files.
Posted by: Sarah on 12th February 2007 2:54pm
---
Takes from the Crib
We now have pictures from the Tales from the Crib: Three Jacks and a Beanstalk new release. Head on over to the gallery to check those out.
The Tales from the Crib information page has been updated with more information on what happens in the episode, a description of the characters and who plays who.
Posted by: Sarah on 16th September 2006 12:36pm
---
Crafts
To declutter the Fun section and make it easier to find things, I have split off the crafts into their own section, which you can now find on the menu bar. The crafts have been reorganised slightly to keep the file sizes down so that the worksheet pages load faster.
There are also 3 new invitation templates under 'Party' in the craft section
Posted by: Sarah on 13th September 2006 5:01pm
---