Dil
sarahs-rugrats > characters > dil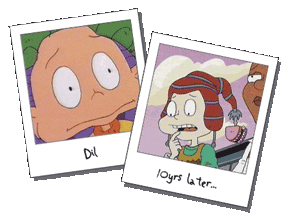 Dylan Prescott Pickles (Dil) is named after his Didi's cousin and is the youngest member of the Pickles family, the second son of Stu and Didi and the brother of Tommy.
Dil lives with his family and their dogs Spike and Spiffy in a house next door to the Deville's. He shares a bedroom with his big brother Tommy and sleeps in Tommy's old crib. Dil's Grandpa Lou lived with the family until 'Rugrats in Paris' when he remarried, giving Dil a new Grandma, Lulu. His uncle Drew is married to Charlotte and he has a cousin, Angelica who calls him 'drooly'. His grandparents on his mom's side are Boris and Minka and he has another uncle, Didi's brother Ben.
Rugrats
---
Dil first appeared in Rugrats in
'The Rugrats Movie
' in 1998. He was later introduced into the main series as a regular character. He was born at the Lipshitz birthing center and delivered by Lucy Carmichael (Susie's mom). Before he was born Dil was thought to be a girl!
During the movie, Dil is a newborn baby, of only a few weeks old. His age was changed to 3 months old for the regular series. His regular clothes are trap door pajamas (yellow with orange trim, although in the movie they were purple with orange trim) or a diaper. Because Dil is so much younger than the other babies, he is not able to move around or talk very much and as a result learns several words over the course of the later seasons. In order to have Dil participate in the Rugrats' adventures Dil was given a 'kangaroo' baby walker which allows him to 'walk' around, he is also carried by Tommy and the other babies at various points.
Dil is a very loud and often selfish baby. He wants everything now and will do anything to get his own way, often stealing Tommy's toys. He has even had the nerve to take Cynthia from Angelica! But his cute baby face is his saving grace, as well as his love of his big brother Tommy, who he will do anything to please... despite bashing him over the head with his rattle or bottle whenever he can.
All Grown Up
---
Having grown up, Dil is now nine years old and has changed dramatically from how he was as a baby. For a start he now speaks complete sentences! He has inherited his mom's red hair. He is known as the 'weird' Rugrat because of his unique personality, possibly consequence of Phil and Lil dropping him on his head as a baby. In
'Izzy or Isn't He?
' we learnt that Dil has a imaginary best friend named Izzy. At school he usually hangs around with the Rugrats and has problems making friends his own age, something he attributes to seeing the world differently to everyone else. Dil is fascinated by aliens, he wants to be abducted and, like his dad, is a bit of an inventor. He is also somewhat of a multicultural Rugrat. His hat is a Sherpa hat, he watches Spanish Soap Opera on TV
"¡Hospital de Tentacion!
" (in '
Dude where's my Horse?
') and wears a Scottish kilt in many episodes.
Other Info
---

Dil is voiced by Tara Strong, who also voices Timmy McNulty, who records her lines separately from other cast members

His first word was 'poopie'



Is called 'Dilly' by his brother Tommy in the Rugrats series

Dil is fascinated by Dolphins. He believes they share a bond with the alien brethren

He has a pet goldfish called Pablo

He is a team laser tag player (as shown in 'Tommy Foolery')