The Rugrats Movie
sarahs-rugrats > info > the rugrats movie
The Rugrats Movie welcomed Baby Dil into the series and took the babies from the small screen to the big screen for the very first time. Find out everything you need to know about it here...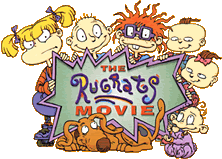 Brief Outline
The Rugrats Movie starts at Didi's baby shower, where Tommy and his friends are waiting excitedly for Tommy's new baby sister. Angelica, however tells Tommy that his mommy and daddy wont love him once the new baby gets here. Enter one Dylan Prescott Pickles, not a new baby sister, but a new baby brother and once he comes home all Dil does is cry and scream. Not so much fun, especially for Tommy, who finds himself left out of everything! So Phil and Lil decide to take Dil back to the "hopsical" (hospital) much to Tommy's horror. With a little help from Stu's newest invention, the Reptar Wagon, the babies get lost in the woods and find themselves far from home, contending with a big sary wolf and a bunch of lost circus monkeys. Circus monkeys who want to take Dil away. And to top if off they have Angelica chasing after them after Dil stole her Cynthia doll. The babies try to find the 'lizard's house' (wizard's house) so they can wish themselves back home but after putting his baby brother first Tommy finds himself alone, without his friends and only a baby brother, who he now decides he doesn't want after all. Meanwhile the grownups are frantically searching for their lost children and Stu ends up saving the day with dactar, his flying dinosaur invention.

Voice Credits
: find out who did the voices of the characters in the movie

Credits
: who helped make the movie? find out here

Film Info
: Running time, awards, ratings in different countries and more...

Release Dates
: When it was released worldwide

Box Office
: How much the movie made

The soundtrack
: find out about the songs and get the lyrics

The Making of
: article about how was the movie made

Movie pictures:
pictures from the rugrats movie

Movie Posters
: Rugrats Movie posters

Mistakes
: Mistakes in the animation etc.

Quotes
: Memorable quotes from the film
Movie logo (above) from
Rugrats Online