Digi-Rats
sarahs-rugrats > fun > digi-rats
These Digi-rats are really cool! Nickeodeon first offered them on their Rugrats in Paris site and I decided to put them up here in case the site ever got taken down. The babies will walk arnd your screen, fall over, cry and make noises and all sorts of other cool things.

Angelica
Angelica Pickles in her french beret will appear on your desktop and be the boss in every way possible! She will scream and scowl, pout and walk off in a mood. She walks and talks, sits down, falls asleep and you can pick her up and drop her so she falls down the screen.
File size: 445kb
[download]

Chuckie
Chuckie Finster acts just like he does on the TV show. He'll stand on your screen looking nervous, if he gets bored he might walk off the screen then appear again from anywhere. Or he might fall asleep. If you're lucky Chuckie will talk to you.
File size: 541kb
[download]


Dil
Dil Pickles is just like this TV counterpart, with his cute baby looks and mischevious nature. Dil falls down your screen and lands at the bottom where he'll cry, suck on his binky, crawl around and even let you pick him up, which makes him laugh his little head off. Dont worry of Dil crawls off and you can't see hm though, he'll always come back, usually bouncing right down your screen!
File size: 304kb
[download]

Kimi
Kimi Finster is one of the livliest digi-babies there is! From the moment she pops up, she'll be exploring everything, looking into your screen, watching what you are doing, disappearing and popping up in other places on the screen with a cheery 'here I am!'. Whether she's laughing or walking around Kimi is never still!
File size: 489kb
[download]

Phil and Lil
Phil and Lil come as a pair, just like in the show. And just like on the show they do everything together and love to argue. Whether that is because Lil is stcking her tongue out at Phil or ignoring him ia all up to them! Be re t pay attention to them though, or they'll fall asleep on you!
File size: 637kb
[download]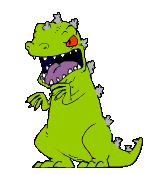 Reptar
Reptar is a force to be reckoned with! He'll stomp his way around your desktop and if you're not craeful he'll stomp so hard he makes the screen shake. Or if he feels like it he'll grab one of your folder icons and eat it, or punch the screen making the glass shatter. He cane ven climb up the screen like he would a tall building. Watchout for him disappearing into black holes because when h comes back out his eyes look red and menacing and he can appear anywhere! Reptar might also surprise you with a spot of dancing!
File size: 533kb
[download]

Tommy
Tommy Pickles loves to explore, so whenever he gets a chance he'll run off to look around your desktop. Tommy says a lot of his most famous phrases, like 'cmon dont be a baby' and 'this is a perfect chance for us to go splorin' which usually means he's about to disappear off into the screen. Be careful though becaus Tommy gets tired easily and has to take a lot of naps!
File size: 389kb
[download]
Please be aware that these digi-rats came from nick.com's Rugrats in Paris website and as such are copyrighted to them and the company that produced them. They are simply offered here as an alternative source. Any problems with these applications is not my responsibility, although files have been virus scanned.