Tommy
sarahs-rugrats > characters > tommy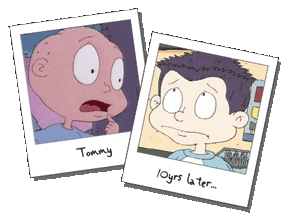 Thomas Pickles is the first son of Stu and Didi Pickles and is the central character in the shows Rugrats and All Grown Up.
Tommy was the youngest of the Rugrats until
The Rugrats Movie
when his parents had another baby - his brother Dil. He lives with his family, next door to the Deville's and shares a room with Dil. Tommy sleeps in a Dummi Bears bed, having vacated his crib when Dil was born. Until
Rugrats in Paris
and the Season Eight episodes, Tommy's Grandpa Lou lived with them. He has a new grandma, through marriage, Lulu. His uncle Drew is married to Charlotte and he sees a lot of his older cousin Angelica, who is always mean to him. His grandparents on his mom's side are Boris and Minka Kerpacketer and he has another uncle, Ben, who is Didi's brother.
Rugrats
---
Tommy is an average one year old who thinks the world is a giant playground. His most distingushing features are his (mostly) bald head - he has about nine strands of hair - and his outfit of a blue t-shirt and diaper. Tommy's first appearence was in the pilot episode
Tommy Pickles and the Great White Thing
which was never seen on TV. His series debut came in
Tommy's First Birthday
. During the pilot and first few episodes of Season One Tommy wore a red t-shirt and diaper, which was later changed to his trademark blue.
He loves to explore and can be very creative especially when he plans games for his friends. Tommy is intelligent, fearless and curious. We learnt during the series' run that his brave personality is because Tommy was a premature baby, who was scared in the hospital, until his mom came and held his hand. As leader of the Rugrats he often gets them into trouble but he's always ready for an adventure. Tommy's hero is Reptar, who he has complete and utter faith in. His "bestest friend" is Chuckie.
The only episodes of the show Tommy did not appear in were 'Cuffed', 'Pickles Vs. Pickles' and 'The Unfair Pair'.


All Grown Up
---
Ten years on, Tommy has spikey purple hair, like his dad. During the first series his outfit consisted of blue jeans and a yellow and white t-shirt. During other seasons, Tommy's wardrobe has expanded and he can now be seen in a variety of outfits.
While he is still an outgoing kid we see some weakness in Tommy when we discover he is afraid of the water (in 'River Rats') due to an accident he had while fishing with Grandpa Lou when he was a toddler. He is also the worst of the gang at being a cowboy when they visit a ranch in 'Dude, where's my horse?', which really gets him down.
Tommy is passionate about film making. It is revealed in 'Truth or Consequences' that he made his first film at 37 months old. His hero is Martin Costermeris, a famous fil director, who he had his photo taken with in 'Truth or Consequences'. Tommy also has a poster of him on his wall, which he imagines talking to him.
Tommy is (or was) part of the school soccer team. He tried to teach Dil how to play in 'Fools Rush In' but since the second series any mention of soccer focuses only on Phil and Lil.


Other Info
---

Tommy is voiced by E.G Daily in the main
Rugrats
series,
All Grown Up
and all three movies.

In the pilot episode, Tommy was voiced by Tami Holbrook.

He is named after Paul Germain's oldest son.

Tommy always carries a screwdriver with him. In the Rugrats series, it was usually kept in his diaper, or hidden around the house, such as under the sofa. Recently in All Grown Up, Tommy keeps his screwdriver in a keychain in his back pocket.

Tommy's love of film making comes from his early childhood. He got his first camera from Angelica in the episode Babies in Toyland