Stu & Didi
sarahs-rugrats > characters > stu & didi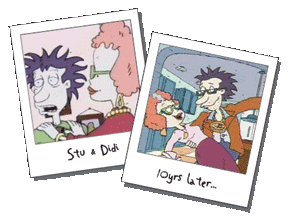 Full names:
Stuart & Diane Pickles
AKA:
Stu, Didi
Age:
mid-30's
Debut:
Tommy's First Birthday
Parents:
Lou Pickles, Boris & Minka Kerpacketer
Siblings:
Drew Pickles, Half brother Ben
Pets:
Spike, Spiffy
Children:
Tommy and Dil
Parents of Tommy and Dil, Stu and Didi try their hardest, but often miss signs that the Rugrats know a lot more than all the parents can see. Stu is loving, concerned and very absent minded. He has moderate success with his toy designs and inventions, created in his basement workshop. Stu loves to describe his gadgets and believes each one will "Put Pickles toys on the map"
Didi reads everything she can on child rearing, especially Dr. Lipshitz, but doesn't see how much her children are exploring and learning. A classic mom - practical, responsible and over protective. Didi is a home economics teacher at a local high school.


10 years later
---
Stu and Didi have aged well, despite Didi now having some gray hair and Stu having a few more wrinkles! Didi is over protective of her boys, while Stu is still into inventing, something he passed onto his youngest son, Dil.