Spike
sarahs-rugrats > characters > spike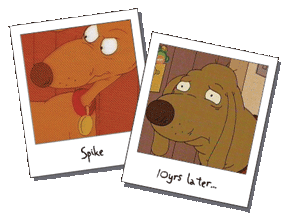 Full name:
Spike Pickles
AKA:
---
Age:
unknown
Debut:
Tommy's First Birthday
Parents:
unknown
Siblings:
unknown
Pets:
none
Children:
Spiffy and Sparky
Spike is the Pickles' family dog who is a loyal and friendly mutt. Spike's main interest is food. When he isn't rescuing Tommy from some impending doom, he's taking him and Chuckie on a wild ride around the neighborhood.
Spike has great adventures with Tommy and will always rescue him if need be, and just in time. He is not as dumb as the adults think.


10 years later

---
Spike has got a lot older and fatter in ten years! He now spends most of his time eating and sleeping.