Lou & Lulu
sarahs-rugrats > characters > lou & lulu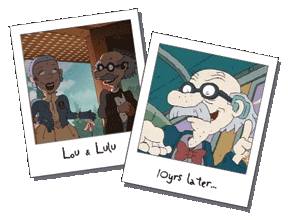 Full names:
Louis Kalhern and Lulu Pickles
AKA:
Lou (Grandpa), Lulu
Age:
unknown
Debut:
Tommy's First Birthday (lou) Acorn Nuts and Diapey Butts (lulu)
Parents:
unknown
Siblings:
unknown
Pets:
none
Children:
Stu and Drew (Lou)
Lou Pickles is Stu and Drew's father and Tommy, Dil and Angelica's Grandpa. He seems more like a Rugrat than an adult, so when he takes over as a baby sitter adventures become quite lively. Granpa Lou falls asleep a lot, especially in the middle of stories and sentences and so the Rugrats have lots of chances to go off exploring while he's taking care of them. He used to live with Stu and Didi until he married Lulu in 'Rugrats in Paris'. Lulu is his second wife, it isn't known what happened to Stu and Drew's mother, she has never appeared in the series.
10 years later
---
Grandpa Lou is still alive and now he drives the school bus, which means he gets to see Tommy, Dil and Angelica every day. He's a lot slower and more wrinkled than he used to be but still loves life and tries to keep up to date with the trends.