Kimi
sarahs-rugrats > characters > kimi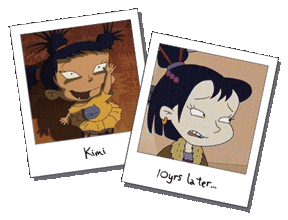 Full name:
Kimi Wanatabe-Finster
AKA:
Kimi
Hair:
black in three pigtails
Wears:
pink shirt, yellow cat dress, diaper, purple boots
Age:
almost 2 years
Debut:
Rugrats in Paris
Parents:
Kira Wanatabe-Finster, dad Hiro and Step-dad Chaz
Siblings:
Step-brother Chuckie
Pets:
Fifi, Sparky
Best friend:
Superthing
Kimi is the only child of Kira and the new step-sister of Chuckie. She was introduced in Rugrats in Paris and now lives with Chuckie and his dad. She met the other Rugrats at Euro-Reptarland. Unlike her big brother, she is adventurous and out-going and is always ready for one of Tommy's adventres. But she sometimes does things without thinking.
10 years later
---
Age:
11 1/2
Kimi has developed a close friendship with Susie, supporting Susie's singing career. She is very proud of her Japanese roots and her best subject in school is languages. Chuckie is still over protective of Kimi, which sometimes annoys her but she knows he has his heart in the right place. One of Kimi's best friends in school is Z, wo she met in science class and she isnt afraid of being different or standing out from the crowd, whether that means her through her friends or her hairstyle.