Drew & Charlotte
sarahs-rugrats > characters > drew & charlotte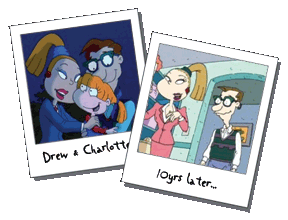 Full names:
Andrew & Charlotte Pickles
AKA:
Drew, Charlotte
Age:
mid-30's
Debut:
Tommy's First Birthday (Drew), The Santa Experience (Charlotte)
Parents:
Lou Pickles, Charlotte's parents do not appear
Siblings:
Stu Pickles, Charlotte's siblings are unknown
Pets:
Fluffy
Children:
Angelica
Drew is Stu's brother and Lou's son. He is a clean cut conservative banker who rarely gets excited about his brothers inventions. He is married to Charotte, who is the president of Merge Corp and is always talking to her assistant, Jonathan on the telephone.
They are both highly committed to their jobs and often do not have time for Angelica. Due to this, she is left with Stu and Didi. They are blind to Angelica's faults and both believe she is the cutest little girl ever born.


10 years later
---
Drew and Charlotte have changed quite a lot in ten years. Charlotte has had some cosemtic surgery in an attempt to stay young and Drew has less hair and a lot more wrinkles. One thing that hasnt changed is their love for Angelica and the way they spoil her rotten!