Betty & Howard
sarahs-rugrats > characters > betty & Howard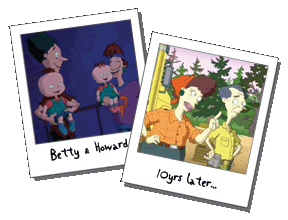 Full names:
Elizabeth and Howard Deville
AKA:
Betty, Howard
Age:
mid-30's
Debut:
Tommy's First Birthday
Parents:
unknown
Siblings:
unknown
Pets:
none
Children:
Phil and Lil
Phil and Lil's parents Betty and Howard, live next door to the Pickles famiy. Betty is big, loud and colorful, best friends with Didi, and treats all of the Rugrats as entertaining companions. Betty worries less than Didi, but acts quickly if a child is upset of afraid, making sure that the fun can continue without tears. She loves sports and health food.
Howard is the opposite to Betty, a small, shy and quiet man who rarely gets a word in edgeways. He often hangs out with Stu, Drew and Chaz and has many allergies and phobias.


10 years later
---
Betty and Howard have had a lot on their hands bringing up Phil and Lil. Betty now works at Java Lava Chaz's coffee house. Betty still has ounces of energy but Howard is still as shy and nervous as ever.